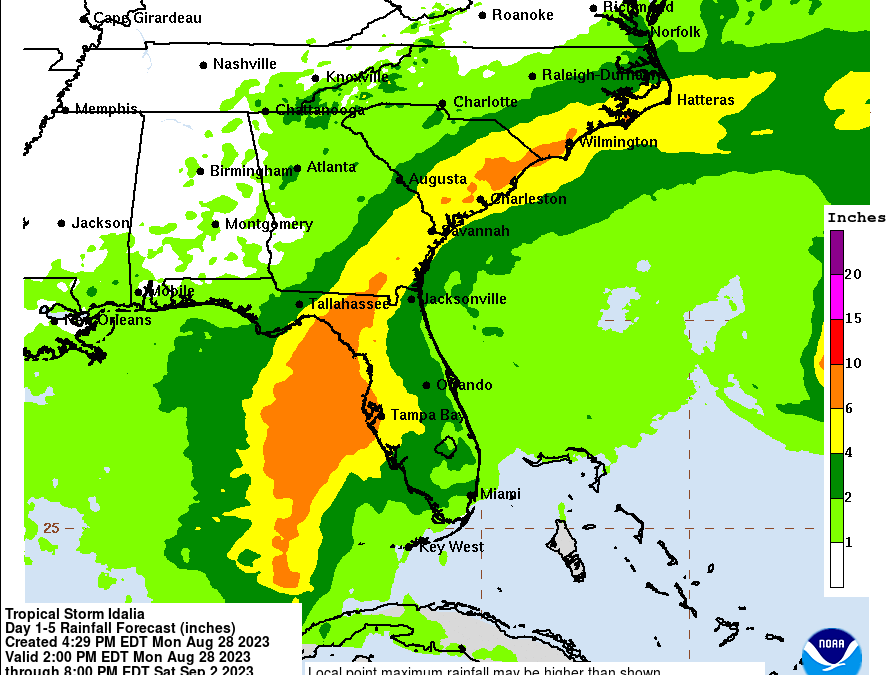 Merciful God,
when the storms rage and threaten to overtake us,
awaken our faith to know the power of your peace.
Deliver us from our fear and ease our anxiety.
Help us to endure the time of uncertainty
and give us strength to face the challenges ahead.
Give us the assurance of your presence even in this time
so that we can cling to your promise of hope and life shown to us
through Jesus Christ, our Savior and Lord. Amen.

(Evangelical Lutheran Worship: Occasional Services for the Assembly, page 394)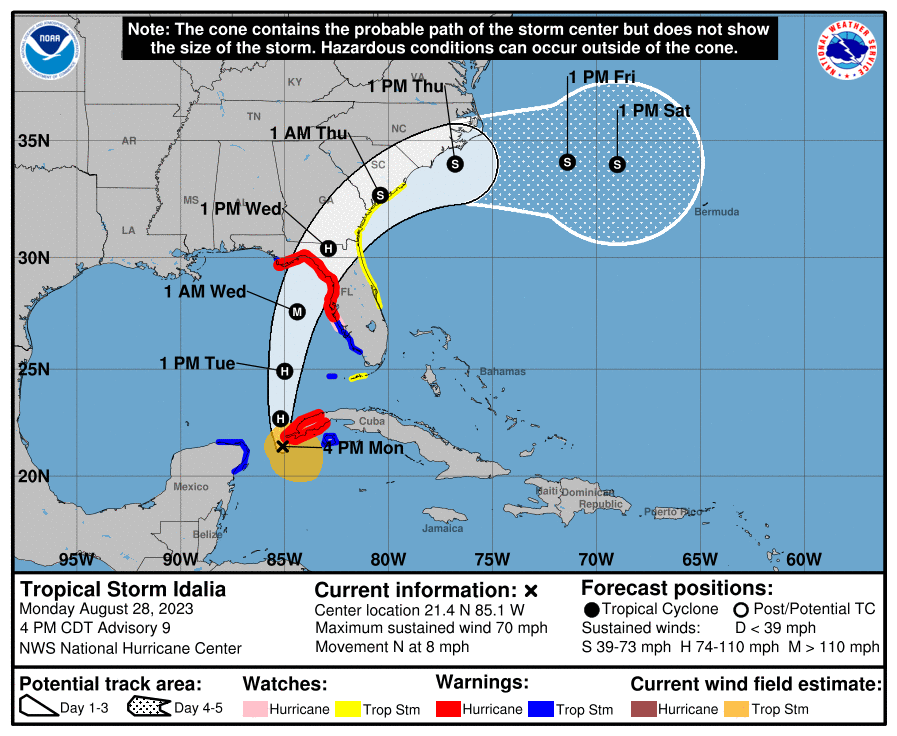 We have been on the job and advocating disaster preparedness for six months and twelve days, but who's counting?!? Hurricane Idalia is now headed toward the Gulf coast of Florida, with southern Georgia and both South and North Carolina in its path.
While the exact path of the hurricane is impossible to predict, we should be prepared for heavy rain and high winds across large portions of both Carolinas.
As we pray for everyone in the path of this storm, which is expected to be a powerful Category 3 hurricane when it makes landfall, we continue to advocate for preparedness. The need is urgent.
Here are some things to consider NOW:
If you live near the coast, know your evacuation zone, and make plans now to evacuate or shelter in place as guided by emergency management. Find your zone here for North Carolina or South Carolina. Notify your family or friends of your plans.
Even if you don't live near the coast, be following weather information from a reliable source, like the National Hurricane Center or your local National Weather Service office to know what to expect in your area.
Be sure you have a way (or ways) to receive weather updates even if the power is out.
Locate your flashlights or another light source in case of a power outage. Check your supply of batteries or lamp oil and stock up if you need more.
Secure outdoor furniture and other items to prevent them from being damaged or becoming airborne in high winds and causing other damage.
Take time now to check out your generator and purchase fuel if you need more.
Charge your laptop computer, cell phones, and other devices and keep them charged.
Be sure that you have the necessary supplies to be at home for 3 to 5 days without power. Consider how much water, food, medications, paper goods, and pet food you may need. Remember that you will need food that you can eat without heating if the power is out.
Have cash on hand in small bills for emergency purchases.
This is not an all-inclusive list of disaster preparedness tips! For more information on preparedness, visit the LDR Carolinas resource page and follow LDR Carolinas on Facebook for more frequent updates as Idalia comes our way.
For ELCA pastors in North or South Carolina, if you, your home, your church building, church members, or their homes of congregation members are impacted by this (or any other disaster), please contact your bishop and the LDR Carolinas coordinators.
Prayers for your safety as Idalia visits your neighborhood!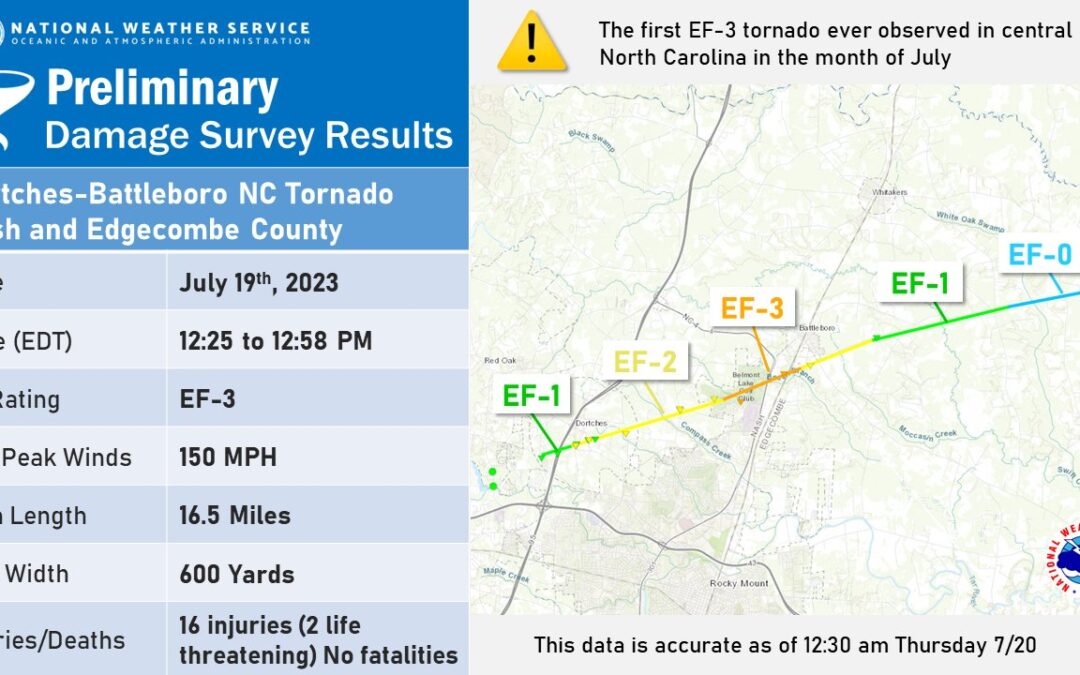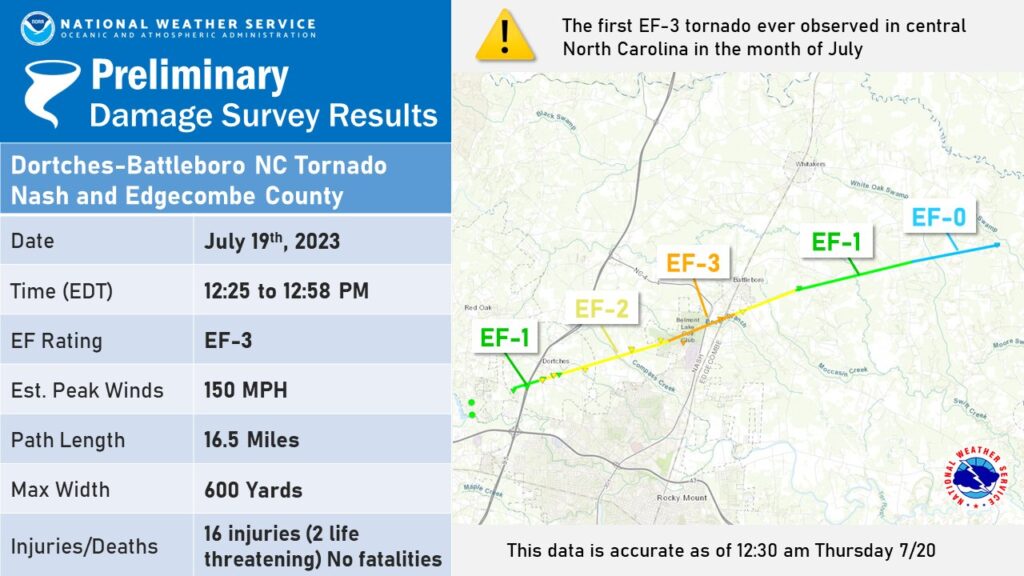 Many of us know that a rare EF3 tornado passed through Rocky Mount, North Carolina on July 19. But after the news coverage of this localized disaster faded, most of us have not heard much more.
In the first few days after the tornado hit (the relief stage) NC VOAD (Voluntary Agencies Active in Disaster) partners like the American Red Cross, the NC Baptist Men, and others showed up quickly to provide emergency food and shelter and to clear debris and tarp homes. NC Emergency Management has also been at work. Together, they have determined that 80 homes in Nash County were affected; 8 of those were completely destroyed. Still more were affected in nearby Edgecombe County.
We have been in contact with Rev. Alice Johnson Curl, pastor of Trinity Lutheran Church in Rocky Mount. Her home, the church, and the homes of church members were undamaged, but she has been active in their community recovery effort. She wrote in the most recent church newsletter:
"The most concentrated destruction was in Dortches, a small town outside Rocky Mount. Many houses were completely destroyed; many had significant damage; there was other property damage such as cars and outbuildings. Pfizer, the largest employer in the Rocky Mount area, had major damage to the loading/shipping dock part of the plant. With all this loss, there were only a few people who sustained injuries… Bob and I live in Dortches. Our home was not damaged, but four of our neighbors had their homes leveled; many lost at least part of their roofs; many had other damage to their homes and property…
[The] Wind of the holy presence of Jesus is stronger than any threats or challenges or storms, even an EF3 tornado that decided to touch down in our small community. Jesus was there on that afternoon. Jesus is still here. Jesus will always enter – because Jesus comes and goes wherever He chooses. And where He chooses to be is with all His beloved always and forever."
Read her entire reflection here.
The effort now moves to short-term recovery. That is the work of helping families begin to return to their daily routines of work and school. LDR Carolinas has applied for a solidarity grant from the churchwide Lutheran Disaster Response ministry to aid the work in Nash County. Those funds will be administered by a coalition including town officials in the community of Dortches, Pastor Curl, and other church leaders, to help pay for short-term needs like deposits for temporary housing, insurance deductibles, or rental of storage units.
Representatives from NC Emergency Management, the local United Way, and other organizations already at work in these communities are meeting to coordinate their efforts for long-term recovery for everyone whose lives have been impacted by this tornado. LDR Carolinas coordinators are included in those meetings.
If you would like to help with short term recovery, please send gift cards (preferably for Walmart, no larger than $50) directly to Pastor Alice Johnson Curl at Trinity Lutheran Church, 433 South Winstead Avenue, Rocky Mount, NC 27804. These will be distributed to affected families who can shop locally to purchase back-to-school necessities (school supplies, backpacks, clothing, and school uniforms) and other immediate needs.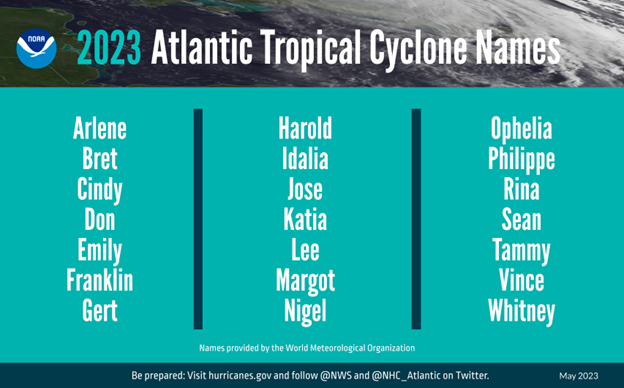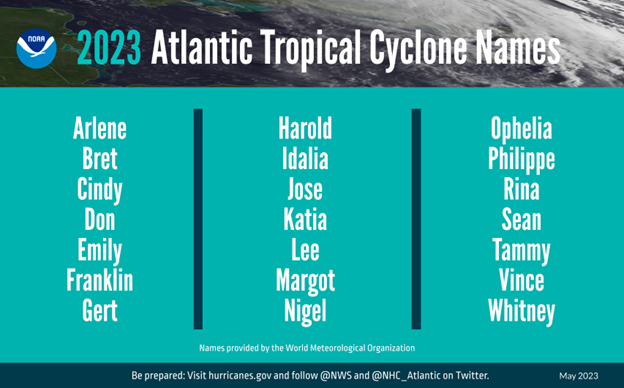 We are now just over a month into the 2023 hurricane season, with three named Atlantic storms – Arlene, Bret, and Cindy – already history. Fortunately, none of those had serious effects, but there have recently been severe thunderstorms in both North and South Carolina, including hail, wind damage, and flooding.
The National Oceanic and Atmospheric Administration (NOAA) predicted a normal hurricane season for this year, including from 12 to 17 named storms and 1 to 4 major hurricanes. As the summer progresses and water temperatures in the Atlantic and Gulf of Mexico rise, the possibility of more damaging hurricanes increases.
Severe thunderstorms are always a possibility here in the Southeast, especially during the hot summer weather we often experience. It is wise for us to be alert for forecasts of severe weather and to be prepared for severe thunderstorms and tornadoes as well as hurricanes. All of these can bring high winds or heavy rain, causing downed trees or flooding, which result in property damage, power outages, or impassable roads. Ways to monitor the weather include having a NOAA Weather Alert Radio and a weather app on your phone. (Many local television stations provide these for free and include things like lightning alerts and storm warnings.)
We encourage congregations to think about being prepared in order to protect your property and be prepared to serve others in your community and beyond. One great resource is the Congregational Preparedness Guide prepared by Lutheran Disaster Response, which will help leaders in your congregation consider what disasters are more likely to affect your community and guide you in planning for those disasters. We would be glad to meet with your congregational council, property committee, or disaster team to help you develop your plan.
We also encourage individuals and families to be prepared at home. The first step is to make a plan. Consider how your family will learn about and respond to severe weather affecting your community.
Experts say that we should be prepared to be self-sufficient in our own homes for up to 72 hours in case of emergency. That allows time for the Federal Emergency Management Agency (FEMA) and other disaster support to arrive and begin providing services following a major disaster.
We know that local first responders will be at work more quickly, but by planning to be self-sufficient, we help free up emergency resources for those in the most urgent need because of health conditions or damage to their homes caused by the disaster.
What does it mean to be self-sufficient for 72 hours? Simply put, it means that we should all be prepared with food, water, medications, emergency cash, and other essential supplies for our family (including pets). FEMA a great guide to help you build a kit for your household. Portions of that kit, especially the clothing, medications, and important documents, should be packed so that you can carry them out if you need to evacuate.
With your kit, you and your family will be well prepared for any disaster that might affect your community, and better able to help others in need.